Bitcoin endured a bear market for the whole of 2022

Macro-economic factors have been responsible

The bearish market could continue as analysts predicts recession in 2023
There were high hopes as Bitcoin (BTC/USD) surpassed $68,000 at the tail end of 2021. Investors started to bet on $100,000 as the next price level. Renowned investors, including Ark Invest's Cathie Woods, gave BTC a price target of $500,000. There is no doubt that such levels can be reached as Bitcoin is still very young, and the potential is huge. But does this mean you should be optimistic in 2023?
Well, it could be too early to judge, but the macro situation demands that we trim the expectations. For a year now, Bitcoin has been bearish, owing to concerns about economic tightening and impending recession concerns. In fact, analysts predict a negative GDP for the US in the first three quarters of 2023. That will mean a more bearish market for Bitcoin and stocks alike.
But what does buying Bitcoin now mean? At less than $17,000, BTC is a bargain price. You would count yourself a smart investor should a bull market return. But you may be out of money for a while before that happens. That's because Bitcoin's bear market is still ongoing, and you could grab some negative pips before you turn a profit. However, as you may have noticed, BTC has been relatively stable above $16,000. Is this the potential bottom?
BTC initiates a short-term recovery above $16,000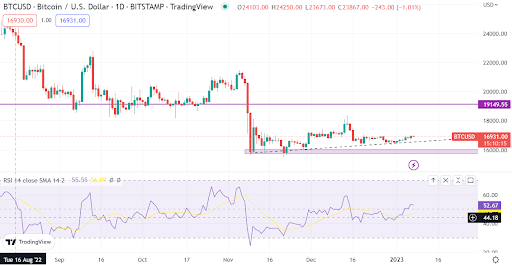 Considering the longer-term bear market, BTC has found stability at the $16,000 support zone. From the daily chart outlook, the cryptocurrency has initiated a recovery at this level. It trades on a short-term trendline. The RSI shifted above the 50-midpoint level on the entry of buyers. 
Will Bitcoin maintain the recovery?
We consider short-term rises relief rallies since the BTC price has yet to overcome the longer-term slump. Should the current upside continue, BTC could face resistance at $19,000? However, we remain cautious about buying BTC now as the price remains vulnerable to a bear market.
Where to buy BTC
OKX
OKX is a top cryptocurrency exchange which offers over 140 cryptocurrencies to invest in.
OKX takes customer security very seriously, they store almost all of their clients' funds in cold storage, and the exchange is yet to be hacked.
On top of this, the exchange offers very low fees and customers can even use their crypto as collateral for loans on the platform.
Binance
Binance is one of the largest cryptocurrency exchanges in the world. It is better suited to more experienced investors and it offers a large number of cryptocurrencies to choose from, at over 600.
Binance is also known for having low trading fees and a multiple of trading options that its users can benefit from, such as; peer-to-peer trading, margin trading and spot trading.