Bitcoin price has been in a consolidation phase in the past few weeks.

The US will publish the latest non-farm payrolls (NFP) data.

Strong jobs numbers will be bearish for BTC.
Bitcoin price has been in a tight range in the past few months. BTC/USD has remained between last month's low of about 16,285 and a high of 18,455. Bitcoin has dropped by more than 22% from the highest level in November. 
US non-farm payrolls data
Bitcoin price has been in a consolidation phase in the past few weeks. The next key catalyst for the BTC price will be the upcoming American jobs data. Economists surveyed by Reuters believe that the economy added more than 200k jobs while the unemployment rate remained at 3.7%. If analysts are accurate, it means that the economy added millions of jobs in 2022.
They also expect the data to show that the country's wages held steady in December. The average hourly earnings are expected to have risen by 5.0% while the participation rate remained at 62.1%. These numbers will come a day after ADP published strong jobs numbers. They showed that the economy added 235k jobs.
US jobs numbers have an impact on Bitcoin prices because they tend to influence the Federal Reserve. The Fed has a dual mandate to ensure that inflation and unemployment rate are steady. It tends to hike rates when inflation is rising. In 2022, the bank hiked rates by 450 basis points. 
The NFP payrolls data will come two days after the Federal Reserve published minutes of the past meeting. These minutes revealed that the Fed was considering hiking interest rates in 2023 in a bid to bring inflation lower.
All signs are that inflation is easing. In December, inflation data showed that consumer prices dropped to 7.3% in November. With gasoline prices and natural gas prices falling, there is a likelihood that inflation eased.
Bitcoin price will likely drop if the US publishes strong jobs data because it will mean that the Fed will continue hiking rates.
Bitcoin price prediction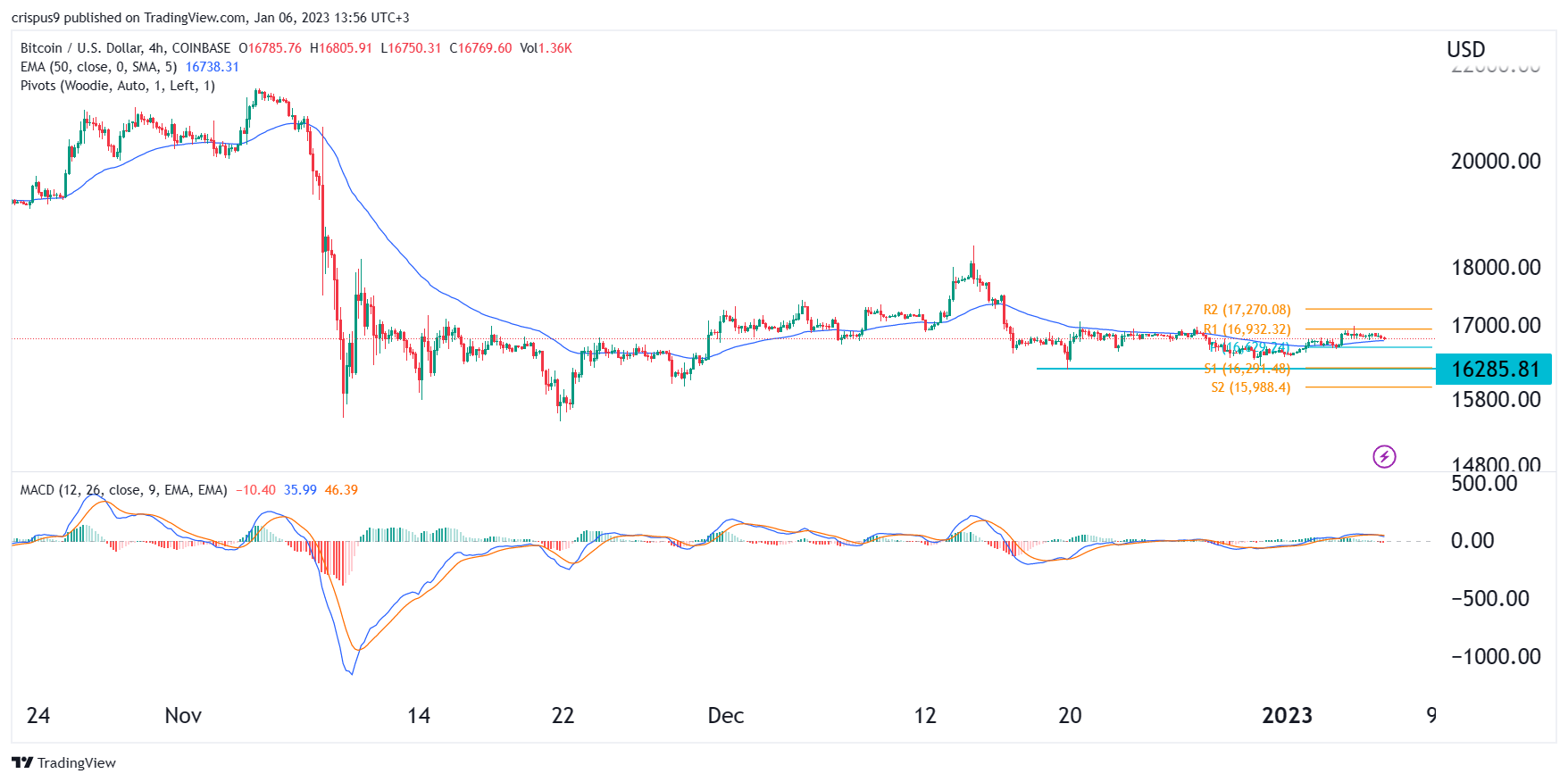 The four-hour chart showed that Bitcoin has been in a consolidation phase in the past few weeks. As a result, it has remained at 25-day and 50-day moving averages. It is also moved slightly above the Woodie pivot point while the Average True Range (ATR) has pointed downwards.
Therefore, Bitcoin will likely remain in this range in the coming days as investors wait for the upcoming US inflation data. The key level to watch will be at $15,800.
OKX
OKX is a top cryptocurrency exchange which offers over 140 cryptocurrencies to invest in.
OKX takes customer security very seriously, they store almost all of their clients' funds in cold storage, and the exchange is yet to be hacked.
On top of this, the exchange offers very low fees and customers can even use their crypto as collateral for loans on the platform.
Binance
Binance is one of the largest cryptocurrency exchanges in the world. It is better suited to more experienced investors and it offers a large number of cryptocurrencies to choose from, at over 600.
Binance is also known for having low trading fees and a multiple of trading options that its users can benefit from, such as; peer-to-peer trading, margin trading and spot trading.