Riot Platforms (NASDAQ: RIOT) stock price has drifted downwards in the past few days as Bitcoin and other cryptocurrencies retreated. The shares retreated to a low of $11.48 in the pre-market session. This means that the stock has dropped by more than 20% from the year-to-date high, meaning that it has moved to a bear market.
Is it safe to buy the dip?
Riot Blockchain is one of the biggest Bitcoin mining companies in the world. It competes with the likes of Argo Blockchain and Marathon Digital among others. Therefore, as in the other mining industry, these companies have a close correlation with the price of the underlying asset.
This explains why the Riot Platforms stock price has jumped sharply this year. Between the lowest point in 2022 and the year-to-date high, RIOT shares were up by more than 338%, making it one of the best-performing stocks in the market.
Therefore, to predict whether the Riot Blockchain stock price will bounce back, we need to understand why Bitcoin is falling and whether it will bounce back soon. As I wrote in this article, the main reason for the crash is that bullish liquidations have jumped in the past two days.
Liquidations happen when brokers and exchanges forcefully close positions of leveraged positions. Therefore, this usually puts prices under pressure.
Another reason why this happened is that Bitcoin recently rose above the key resistance level at $30,000. Historically, cryptocurrencies tend to be a bit volatile when they move above or below a key support or resistance level. 
The other reason is that several regional banks, including Western Alliance Bancorp, published strong results. Its inflows rose by more than $3 billion. As such, the risks of a banking crisis seens like they have been minimized. In a note, analysts at Bernstein said:
"Any potential dislocation, whether on the bank's credit side, or on the sovereign side …positions bitcoin perfectly as a safe-haven asset alongside gold."
Therefore, there is a likelihood that Bitcoin price will bounce back in the coming months as the Fed starts to pivot.
Riot Platforms stock price forecast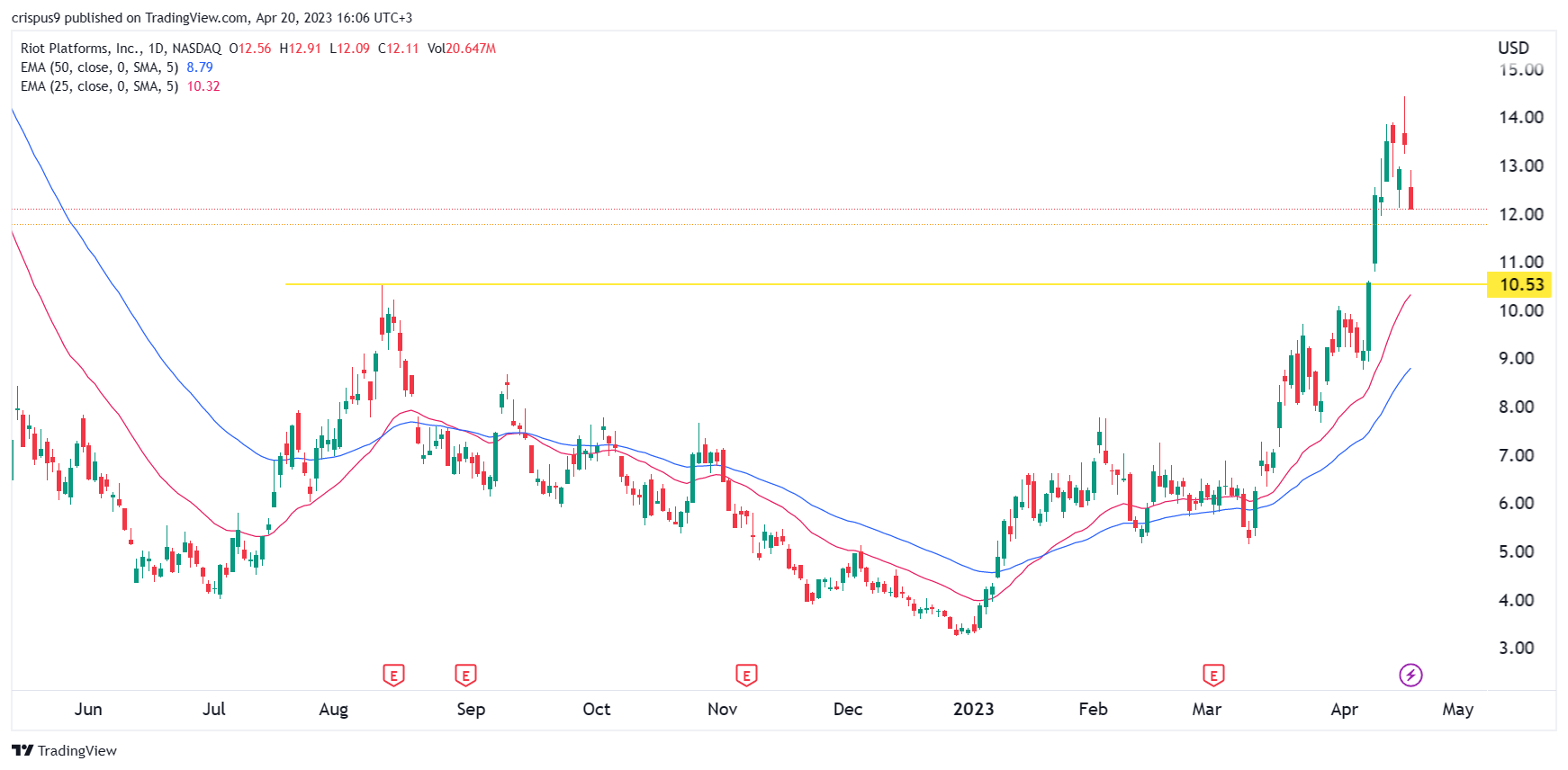 The daily chart shows that the RIOT share price formed a shooting star pattern on Wednesday. In technical analysis, this pattern is usually a bearish sign. The stock has jumped by more than 25-day and 50-day exponential moving averages. 
It remains slightly above the key support level at $10.53, the highest level on 11th August. Therefore, I suspect that the shares will drop to the key support at $10.53. The stock will then resume the bullish trend as buyers target the year-to-date high of $14.51.
How to buy Bitcoin
Bitstamp
Bitstamp is a leading cryptocurrency exchange which offers trading in fiat currencies or popular cryptocurrencies.
Bitstamp is a fully regulated company which offers users an intuitive interface, a high degree of security for your digital assets, excellent customer support and multiple withdrawal methods.
Binance
Binance is one of the largest cryptocurrency exchanges in the world. It is better suited to more experienced investors and it offers a large number of cryptocurrencies to choose from, at over 600.
Binance is also known for having low trading fees and a multiple of trading options that its users can benefit from, such as; peer-to-peer trading, margin trading and spot trading.